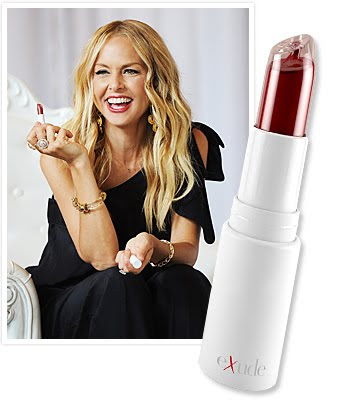 Exude Lipstick is set to modernize the way women wear lipstick. Because of its revolutionary applicator, Exude is able to retain its shape over time and dispense the exact amount of lipstick users need, without any mess or waste. Millions of women welcome the glamour of lipstick, but until now the process of putting on lipstick has been anything but glamorous. Exude is a modern approach to a classic beauty problem. To help epitomize the brand's personality, Exude collaborated with Rachel Zoe, one of Hollywood's most coveted stylists.
I opted for the Exude Lip Gloss in Dusty Pink since I don't wear lipstick that often. The Dusty Pink is a modest yet playful shade of light pink, making it perfect to wear during Spring. It has a hint of a minty flavor that makes my lips tingle, which doesn't bother me in the least since it doesn't burn or hurt.
The lip gloss glides on effortlessly without making a mess in the process, and the texture feels nice on the lips – not sticky or waxy at all! It hydrates the lips beautifully with an anti-aging complex complex, which includes Omega 3, and Omega 6 Essential Fatty Acids, Vitamin E, and Goji Berry.
The only thing I don't like is the $29 price tag, considering this product wouldn't last long with me since I wear lip gloss a lot. The price might not faze you one bit if you're more conservative of how often you wear lip gloss.
Exude is available in Lip Gloss and Creme. The Creme colors are Coral, Cranberry, Rosy Brown, Nude, Brown, Bronze, Red, Plum, and Pink. The Lip Gloss colors are Dusty Pink, Crimson, Brown, Clear, and Scarlet Red.
This post is in partnership with Exude Lipstick.