Suntegrity Skincare is the best natural sunscreen that was made in memory of the founder's mom and all of those who lost their lives to skin cancer. Using her mom's experience as a positive catalyst for change, she created a holistic, mineral sun care line to help people avoid skin cancer.
After losing her mom to melanoma skin cancer, she became a big advocate of wearing sunscreen. However, most of the sunscreens on the market use chemical UV blockers and contain a lot of toxic ingredients. It didn't make sense to her to use these types of sunscreens to prevent skin cancer only to get another kind of cancer.
After several years of research and investigation, she decided to develop her own sun care line that works from both the inside-out and the outside-in. With a heartfelt mission and the help of an extremely knowledgeable formulator and chemist, Suntegrity Skincare was born.
The Best Natural Sunscreen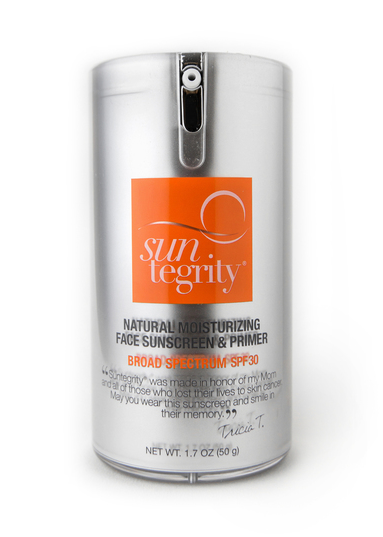 The Suntegrity All Natural Moisturizing Face Protection SPF 30 ($45) has received a top rating on the EWG list. It is truly the best sunscreen I've used so far. It has a light, yet delightful citrus smell and makes my skin feel silky smooth. I love that it isn't greasy at all, but a tiny bit goes a long way since it will give you a ghostly appearance if you use the same amount you'd with a foundation. It is infused with youth promoting antioxidants and astaxanthin. Also, it has been carefully made for all skin types. Their sunscreen is truly the best natural sunscreen!
You might also like their All Natural Moisturizing Body Protection SPF 30 ($29) and Suntegrity™ Sun Defense Dietary Supplement with Vitamin D3 ($35). Their supplements will strengthen the body's ability to protect itself against sun damage and aging from harsh UV rays. You can also purchase the Suntegrity™ Sun Set (all 3 Suntegrity™ products together) for $85. You'll be saving over 20% off the list price.
This post is in partnership with Suntegrity.