SpiritHoods are more than just a wild accessory, they represent this bond and the connection we have with our wild natures. Whether you love fashion, adventure, animals, music, festivals, nightlife, the outdoors, or are simply wild at heart – SpiritHoods are a necessity for your life style. It's simply about letting loose, being wild and having a good time.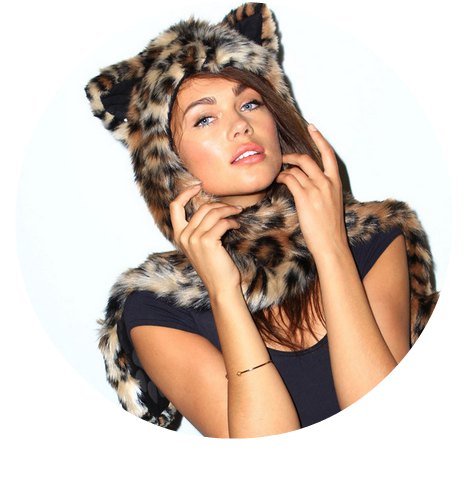 The Leopard Spirit is able to blend in to many different circumstances with ease. People with this spirit find comfort in many different social situations yet also appreciate being alone. Often territorial and protective the Leopard naturally commands respect, without needing to demand it.
If you don't want to blend in the crowd, the Leopard Spirit Hood ($99) is a surefire way to garner attention that will be positive or negative. Regardless how people may perceive your look, it will be a look that is uniquely your own and you can be guaranteed that not everyone will be bold and fearless as you are. Celebrities such as Khloe Kardashian, Vanessa Hudgens, Pink, Anna Lynn McCord, Audrina Patridge, Katy Perry, Bruno Mars, Fergie, Ke$sha, and many more are going crazy over this daring look!
I first wore my Leopard Spirit Hood on Christmas Day. I think my boyfriend thought I had lost it when I stepped out of my house, wearing this. However, he grew to like it and even said it was cute.  A couple of people has even asked me where they could they buy one after they saw the picture on Facebook. Despite the mixed reactions I've received, I love wearing the Leopard Spirit Hood! It is utterly comfortable and a must have winter accessory. It even has mittens to keep your "paws" warm. Each hood has its own unique characteristics, from ears to buttons and lining. No two hoods are exactly the same..
Buy a SpiritHood, Help an Animal
You can be assured that no animal was harmed in the process since it is made with acrylic faux fur, which feels and looks like the real deal. With every purchase, SpiritHoods donates 10% of net profits to help protect endangered animals and their habitat
Connect with SpiritHoods
Go with your animal instincts – buy a SpiritHood!
This post is in partnership with SpiritHoods.