Share the post "It's All About You with the Chateau Ste. Michelle Nudge Calendar"
This is the season to be merry!
Although between the shopping, decorating, attending seasonal festivities, and entertaining; you may not feel anything except overwhelmed amid the hustle and bustle of the holiday season. There are some people who can't wait for Christmas to be over and done with. It can be an overwhelming season, but it doesn't always have to be. It's important to make us a top priority too and take at least a few hours or minutes for a moment of solitude. This can be retreating to your bedroom, taking a walk or a drive, or checking out books at the library. It may sound like an act of selfishness to some. However, there is nothing healthier and empowering for our state of mind, body, spirit, and health than reveling in time alone.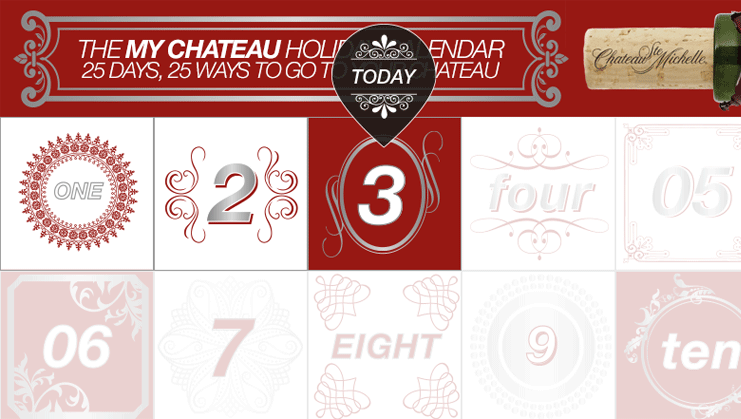 With this in mind, Chateau Ste. Michelle, an award winning winery in Washington, put their modern-day spin on the traditional Advent Calendar with their digital My Chateau Holiday Calendar. Counting down to the days of Christmas, the tabs on the My Chateau Holiday Calendar reveal an activity you can do within your own company on each day, such as "Today is eat-a-red apple day. We checked and it's okay to have a slice of apple cake with a glass of ice wine instead."
In such a crazy time of the year, it's never been more important to go to Your Chateau. This holiday season, Chateau Ste. Michelle wants to help you find that time or place where You can become You again. Follow the MY CHATEAU Holiday Calendar: http://www.facebook.com/stemichelle