Candlewick Press provided some of these titles for review. This post may contain affiliate links, from which I will make a commission if you purchase via the links.
May is Asian American and Pacific Islander (AAPI) Heritage Month, a time to celebrate and recognize the accomplishments and contributions of AAPI individuals and communities. A great way to celebrate this month with children is by reading books that feature AAPI characters and stories.
Reading books featuring AAPI characters and stories can help children develop a deeper understanding and appreciation of AAPI cultures, traditions, and experiences. It can also serve as a way to promote diversity, equity, and inclusion.
Celebrating AAPI Month with These AAPI Children's Books
Here are some great books to consider reading with children during AAPI Heritage Month:
---
This picture book celebrates the beauty of Asian features and explores the importance of self-acceptance and self-love.
---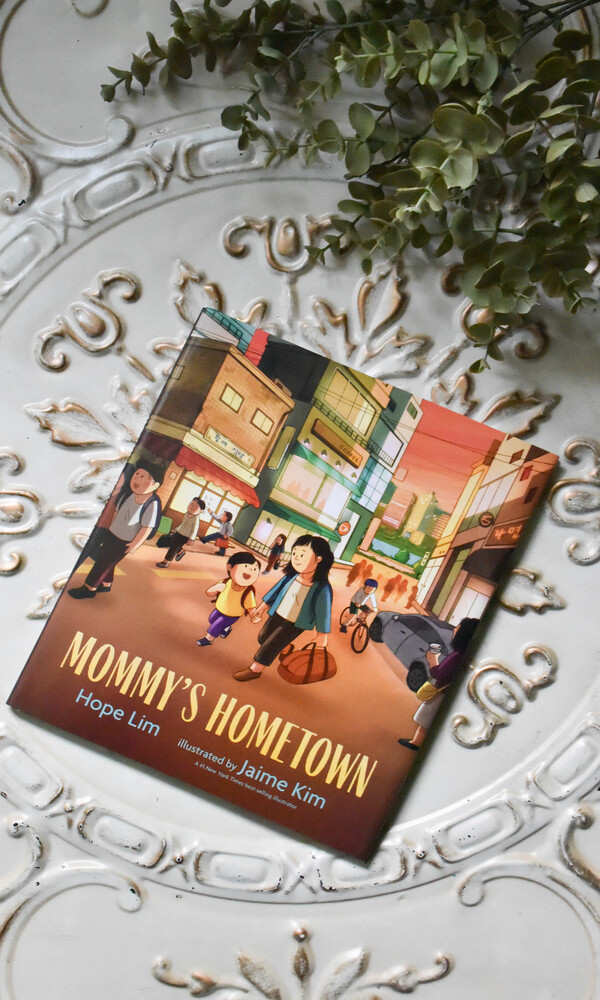 Mommy's Hometown by Hope Lim takes readers on a journey to a small town in Korea through the eyes of a young boy and his mother. The story follows the boy and his mother's trip to her hometown, where the boy discovers that the town is not what he expected.
The author does an excellent job of setting the scene and describing the town through the eyes of the young boy. The illustrations are charming and help to bring the story to life. The book is an excellent way to introduce children to different cultures and customs.
As the boy explores the town, he begins to see it through his mother's eyes and appreciate its beauty and charm. The story is a touching reminder of the importance of seeing things from someone else's perspective and learning to appreciate different cultures.
The book is also an excellent tool for parents and educators to teach children about the importance of family, tradition, and cultural heritage. The story is written in a simple and engaging way that is easy for children to understand and relate to.
Mommy's Hometown by Hope Lim is a delightful and heartwarming story that will surely capture the hearts of children and adults alike. The book's message of understanding and appreciating different cultures is one that is needed now more than ever, and it is delivered in a way that is both entertaining and educational. I would highly recommend this book to anyone looking for a heartwarming story to share with their children.
---
This poignant story follows a young boy and his father as they go fishing for food in a pond. It explores the immigrant experience and the sacrifices that families make for their children. Bao's father told him about a different pond in their native Vietnam in between hopeful casts. This potent picture book has received multiple honors and six stars from critics because of Thi Bui's strong, evocative artwork and Phi's beautifully crafted prose.
---
This beautifully illustrated picture book tells the story of a Japanese man who moves to America and longs to return to his homeland. It explores the themes of identity, belonging, and the search for home.
---
This middle-grade novel follows a 10-year-old girl who helps her family manage a motel in California. It explores themes of immigration, poverty, and the American Dream.
---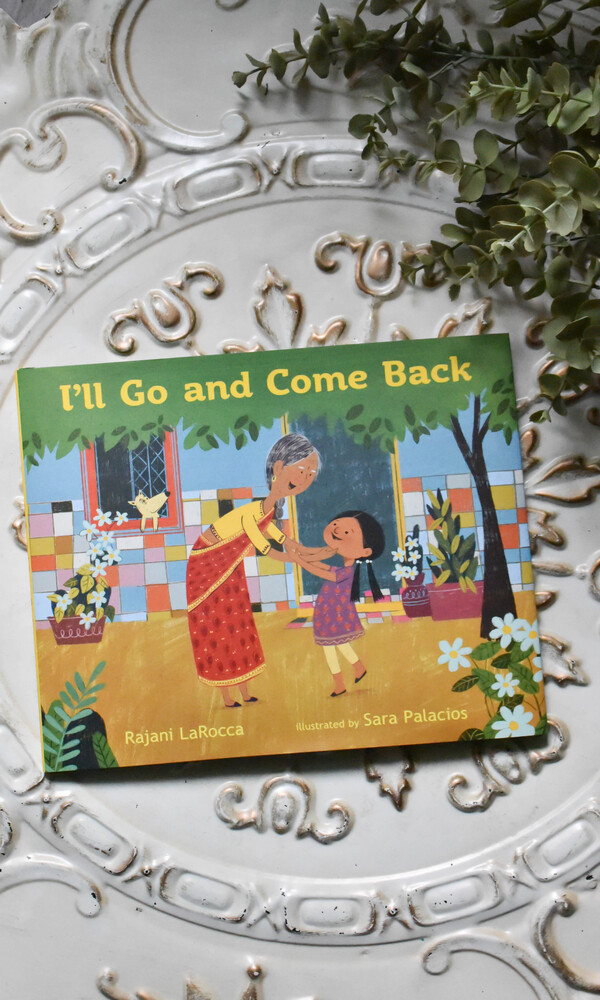 I'll Go and Come Back by Rajani LaRocca is a heartwarming and beautifully illustrated story that explores the bonds of love between a girl in America and her grandmother in India. The book is a touching reminder that love knows no boundaries and that it can stretch across languages, cultures, and continents.
The story is told from the perspective of a young girl named Jyoti, who is excitedly awaiting the arrival of her grandmother from India. When her grandmother arrives, Jyoti is thrilled to spend time with her and to learn more about her culture and language. Despite the language barrier between them, Jyoti and her grandmother find ways to communicate and share their love for each other.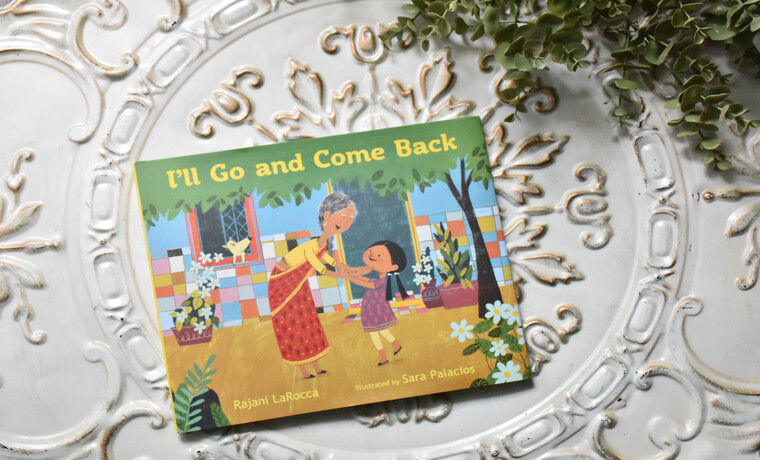 The illustrations in the book are absolutely stunning, and they do an excellent job of capturing the beauty and richness of Indian culture. The colors are vibrant and the details are intricate, making the book a visual feast for readers of all ages.
One of the things I loved most about this book is the way it celebrates the unique bond between grandmothers and their grandchildren. The love between Jyoti and her grandmother is palpable throughout the story, and it is clear that they have a special connection that transcends language and distance.
I'll Go and Come Back is a tender and heartfelt book that is perfect for anyone who has ever loved someone who lives far away. It is a reminder that even when we are separated by oceans and continents, the bonds of love can still bring us together.
---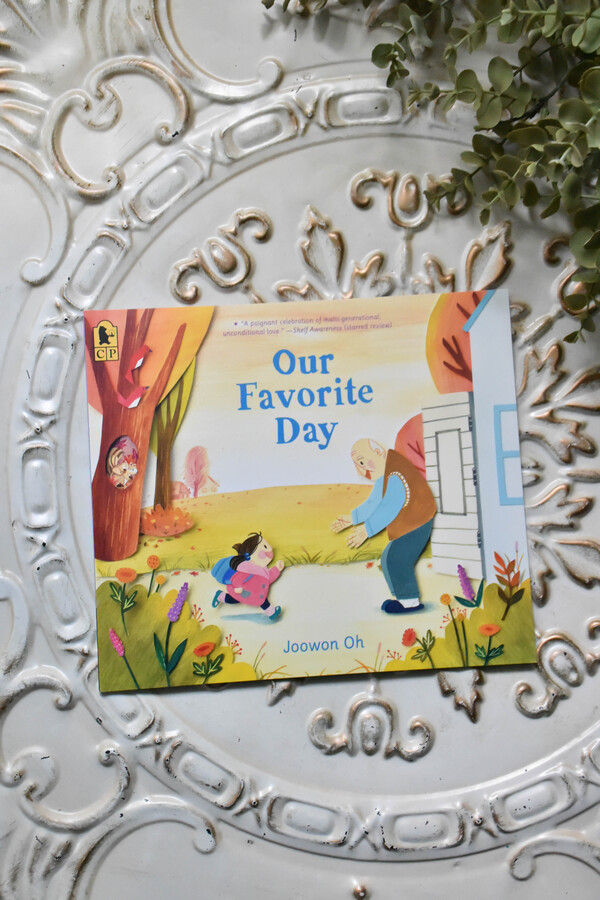 This is a beautifully illustrated children's book that tells the story of a grandfather and his granddaughter's special bond. The story revolves around the grandfather's routine, which he follows every day, but there is one day each week that is extra special. On this day, he takes his granddaughter on a trip to town where they visit the craft store, get dumplings, and pick flowers along the way.
The book's spare text and warm watercolor and cut-paper illustrations make it an engaging read for children of all ages. The illustrations are detailed, with each page inviting the reader to explore and discover the little details that make the story come alive. The characters are beautifully depicted, with the grandfather's love for his granddaughter shining through on every page.
Joowon Oh's writing is simple yet powerful, perfectly capturing the special relationship between a grandparent and a grandchild. The story is a celebration of love, family, and the special moments that make life worth living. It is a heartwarming reminder that it's the simple things in life that often bring us the most joy.
Our Favorite Day is a beautifully crafted children's book that is sure to warm the hearts of both children and adults alike. It is a perfect addition to any family's library, and a wonderful gift for grandparents and grandchildren to share together.
---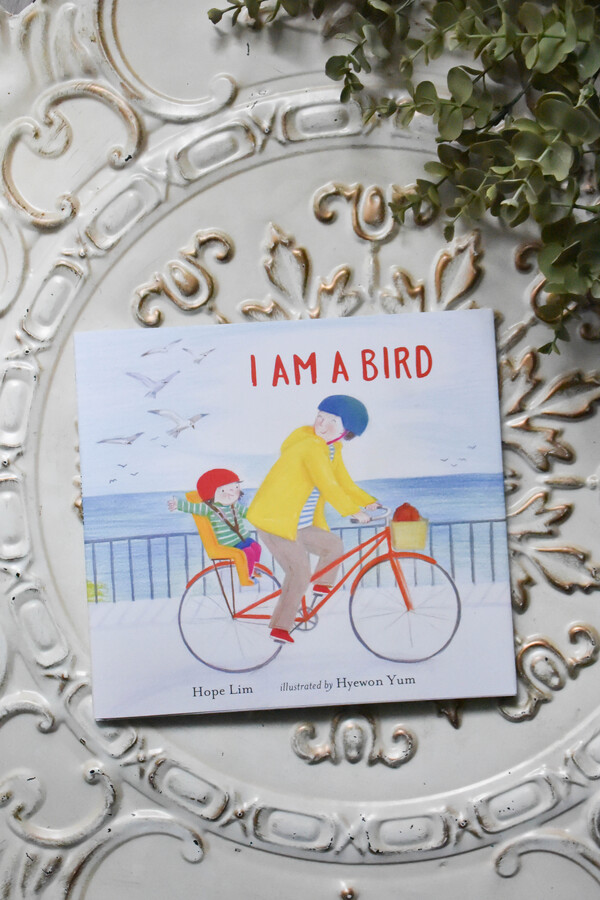 This is a beautiful and touching children's book that tells the story of a little girl who rides to school on the back of her father's bike, singing her birdsong for all to hear. The story is beautifully illustrated by Hyewon Yum, whose delicate and expressive illustrations perfectly capture the emotions of the little girl as she rides through the streets.
As the little girl and her father ride through the streets, they encounter a strange woman in blue who carries a mysterious bag. The little girl becomes quiet and wary when she sees the woman, but she is curious about what is inside the bag. When she finally discovers what the woman does with her bag each morning, it is a beautiful surprise that transforms her wariness into a feeling of kinship to be celebrated.
The story is simple yet powerful, and it encourages readers to embrace our similarities rather than focus on our differences. Hope Lim's text is perfectly complemented by Hyewon Yum's illustrations, which are both delicate and expressive. The book is an excellent tool for parents and teachers to teach children about the importance of empathy and understanding.
I Am a Bird is a heart-felt book that teaches important lessons about empathy and kindness. It is a must-read for children and adults alike, and it will leave readers feeling inspired and uplifted.
---
When You Trap a Tiger by Tae Keller won the 2021 Newbery Medal and tells the story of a young Korean-American girl who discovers a magical tiger in her grandmother's backyard. It's a beautifully written and engaging story that explores themes of family, identity, and the power of storytelling.
---
This book highlights the influence of Asian Americans across the nation and in a variety of fields, from producing beautiful music like Yo-Yo Ma to traveling to space like Franklin Chang-Daz; from fighting for justice like Fred Korematsu to becoming the first Asian American, Black, and female vice president of the United States like Kamala Harris.
Each spread is illustrated by a different renowned Asian American or Asian artist. Yes We Will includes brief biographies of the people or historical events that are mentioned in the main lyrical text and longer biographies at the end. The book can be used in a variety of ways by readers of various ages and requirements, from classroom discussions to bedtime read-alouds and more.
These are just a few examples of the many great books featuring AAPI characters and stories. By reading these books with children, we can help them develop empathy, understanding, and a sense of appreciation for the diversity of our world.