This post may contain affiliate links, from which I will make a commission if you purchase via the links.
Radical Remedies by Brittany Ducham is a refreshing and empowering guide to natural remedies that can be used to promote overall health and well-being. Ducham's approach is grounded in the belief that our bodies have an innate ability to heal themselves, and that by embracing natural remedies, we can support and enhance this natural healing process.
One of the key themes of Radical Remedies is the idea that embracing natural remedies is a form of self-care. In today's fast-paced, high-stress world, it's all too easy to overlook our own health and well-being in the pursuit of success or productivity. But as Ducham reminds us, taking care of ourselves is essential if we want to be truly happy and fulfilled.
Radical Remedies: An Herbalist's Guide to Empowered Self-Care
---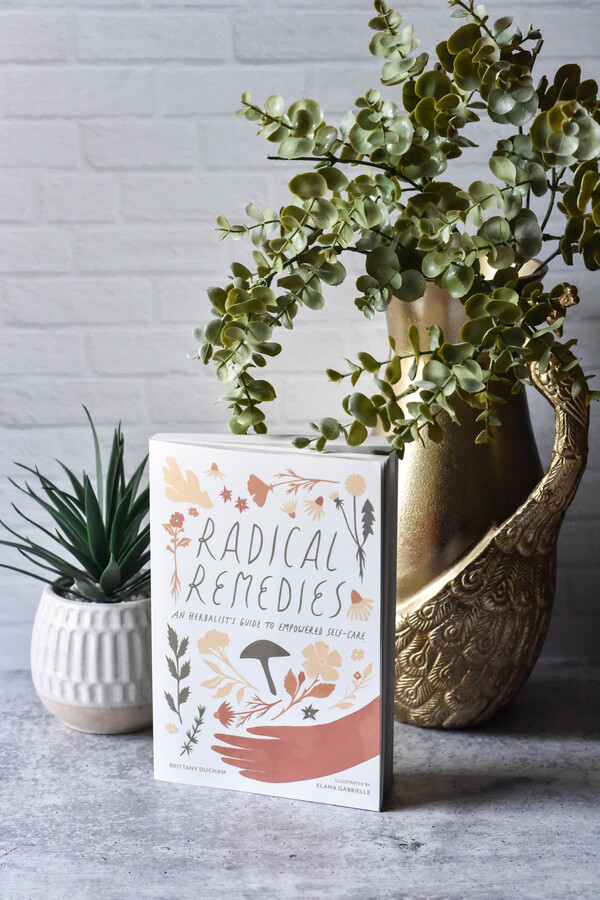 Natural remedies offer a way to do just that. By incorporating herbs, essential oils, and other natural ingredients into our daily routines, we can support our physical, emotional, and mental health in a gentle, non-invasive way. Whether we're dealing with stress, anxiety, sleep issues, or digestive problems, there are natural remedies that can help us find relief and promote healing.
This book provides detailed instructions on how to make a range of herbal remedies, including Ashwagandha Chai, Sacred Spark Infusion, Lemon Balm and Orange Peel Honey, and Banish the Blues Tincture. She also includes instructions for making natural beauty products, such as a Honey Mallow Soothing Face Mask and a Gotu Kola Rose Facial Oil.
The fact that Radical Remedies is more than simply a book of remedies to try is one of its many wonderful features. Instead, Ducham adopts a holistic approach, looking into the root causes of various health problems and providing advice on how to treat them naturally. She also stresses the value of mindfulness and self-awareness, urging readers to pay attention to their bodies and their own needs and aspirations.
Throughout the book, Ducham shares her journey with natural remedies, describing how they have helped her overcome various health challenges and improve her overall well-being. Her down-to-earth writing style and relatable anecdotes make the book feel like a conversation with a trusted friend, rather than a dry textbook.
It's true that natural remedies are not a panacea. Ducham acknowledges that there are times when conventional medicine is necessary. But by incorporating natural remedies into our daily routines, we can support our bodies and minds in a gentle, non-invasive way, and take an active role in our own health and well-being.
Her clear and succinct writing is one of this book's merits. Even readers who are unfamiliar with natural remedies will be able to understand the content because of how simply and clearly it is presented. The book is filled with the author's infectious excitement for the subject, which is clear throughout.
Ducham's emphasis on self-care and taking an active role in one's own health and well-being is another quality of this book. She exhorts readers to respect their emotional experiences and pay attention to their bodies. She also offers helpful advice and methods to support them in doing so.
For anyone wishing to enhance their health and wellbeing with natural cures, Radical Remedies is a great resource. Brittany's passion for the subject matter, combined with her clear and concise writing style, make this book an engaging and informative read. Whether you are new to natural remedies or a seasoned practitioner, this book is sure to provide you with valuable insights and practical tips for achieving optimal health and well-being.