See a board-certified doctor in just minutes – no appointments needed. They're available for you 24/7. Online doctor consultations are covered by many top health plans. You can even get a prescription if needed and sent to your local pharmacy.
Many people are guilty of having Dr. Google on standby for common issues like stomach pains in the middle of the night. This has caused many to analyze even the most minuscule symptoms. This is how the term cyberchondria was coined by a journalist in the London Sunday Times in 2000. Cyberchondria is a term is who used for individuals who falsely believe that they're suffering from a disease that they read about on the internet. I'll even admit that I have been guilty of turning to "Dr. Google" in the past. This only resulted in unnecessary emergency room visits, anxiety, and medical bills all because of the convenience of Google. That is why I have learned to stop Googling everything. Some may rely on Google to self-diagnose and self-treat their symptoms to avoid seeking medical attention.
There are a number of reasons that play a factor in why some avoid seeking professional medical attention. Some of the reasons could include the cost, lack of transportation, not having a babysitter, not being able to get an appointment sooner, or the wait time at the doctor's office, to name a few. Google may be convenient for those who want to seek out immediate medical advice, but Google is not a reliable or certified doctor. Google is like a so-called friend that you turn to for advice, yet they make you feel worse instead of better more often than not.
Samsung Health's Ask an Expert Service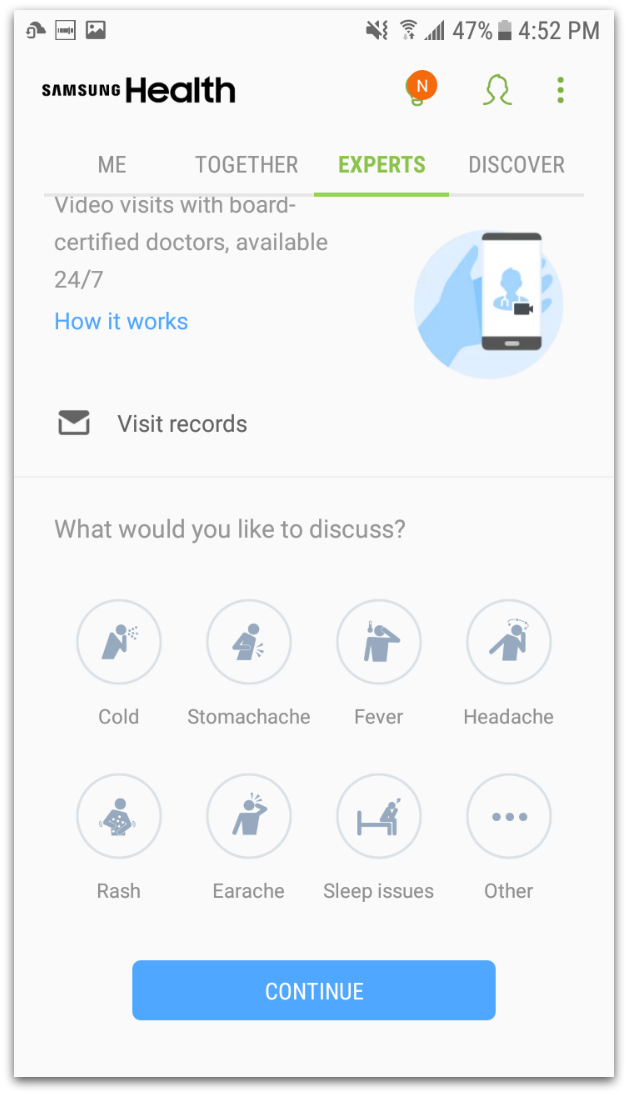 This is where Ask an Expert via the Samsung Health comes into play! It is a fast, convenient, affordable, easy, and reliable medical app that provides care when you need it. Care is at your service for your medical needs 24 hours a day, seven days a week; whether you're at work, traveling, or in your home. With a Samsung device, you can video chat with a board-certified doctor without leaving the comfort of your own home. Ask an Expert shows a list of doctors that are available at your fingertips! Some of the doctors are even available in the evenings as well as on weekends.
The doctors can help address a myriad of issues. Some of these issues include anxiety, headaches, weight concerns, urinary tract infection, depression, sinus infection, sore throat, sleep issues, or any minor ailment or illness, among others. You can rest assured that you'll be receiving quality health care. You'll be pleased that their doctors are not just professional and knowledgeable, but they're also friendly!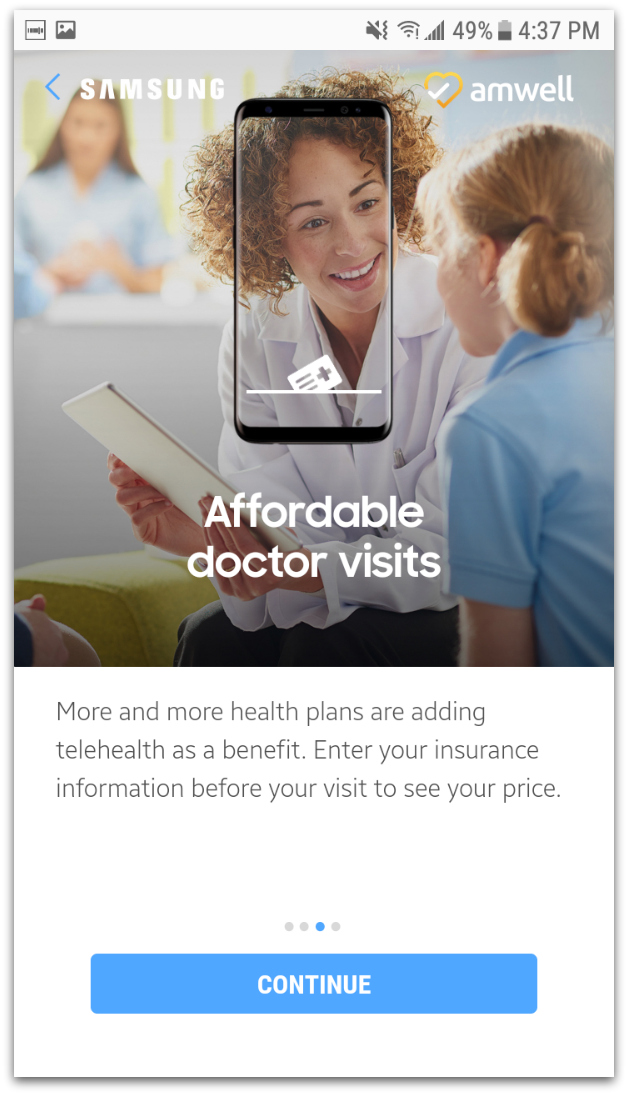 If you aren't sick and have questions for an expert, they can still guide you with tips on how to avoid illness during this upcoming cold and flu season. This is simple and for half the cost. Within your Samsung Health app, you already have a built-in health chart ready at your disposal. This virtual health chart includes information on your pulse, weight, blood pressure, and glucose levels. Ask an Expert has recently expanded their services to cover not only Urgent Care Services, but now also includes specialty services for nutrition and therapy services, by appointment.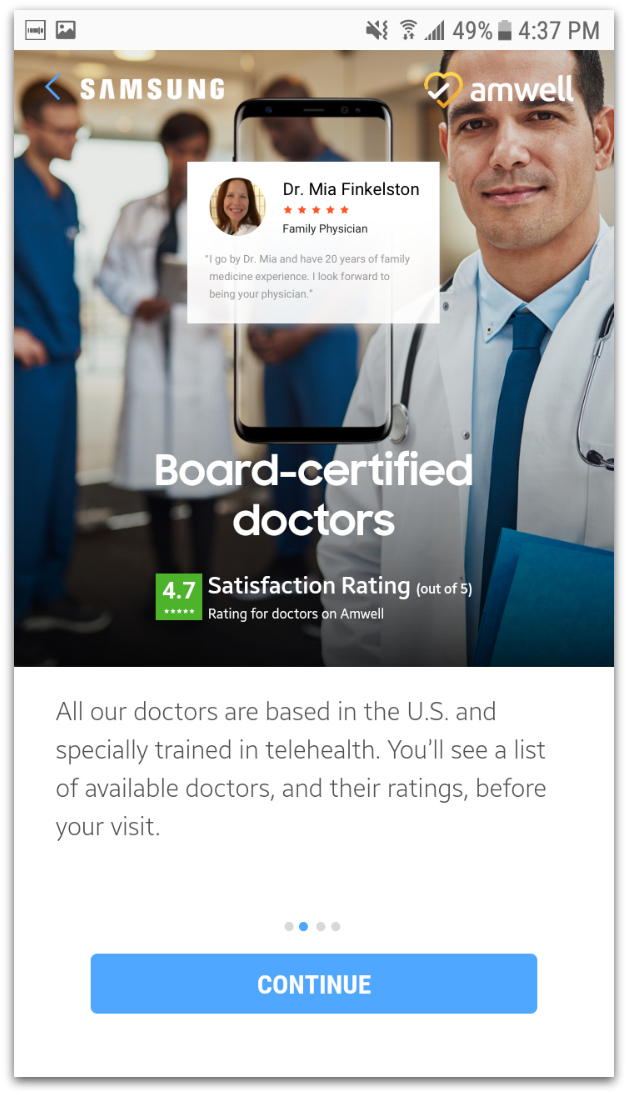 I Asked an Expert via Samsung Health
With a 3-month-old, an energetic 5-year-old, and an 11-year old that comes home with a mountain of homework, these last few months have been a challenge! Especially since I haven't been able to get the sleep I need, getting things done and done efficiently, among spending time with my family, and just relaxing. It has become frustrating to not have a set sleep pattern and therein lies the dreaded anxiety that follows. I was getting frustrated with the long waits for appointments and the big bills that come with it. This is why I was relieved to find out about Ask an Expert. Best of all, I didn't have to leave the home or be concerned about another huge bill!
Choosing a doctor was simple and easy. I chose the doctor that I wanted to speak to and connected with him via video conference. I asked the doctor questions in regards to sleep deprivation and anxiety. I needed to know what steps I could take to eradicate sleeplessness and some of the anxiety.
My doctor recommended the best times to get exercise in and vitamins I could take in lieu of heavy medication normally prescribed for anxiety. He recommended me not to take short, unproductive naps during the day. He also suggested for me to take melatonin for a better, healthier sleep. He explained that melatonin provides better sleep without a heavily medicated feeling. Overall, I loved the doctor's suggestions. He made me feel comfortable with the questions that I had and the answers that he provided. I felt like I was sitting there at a doctor's office and not just on a video conference.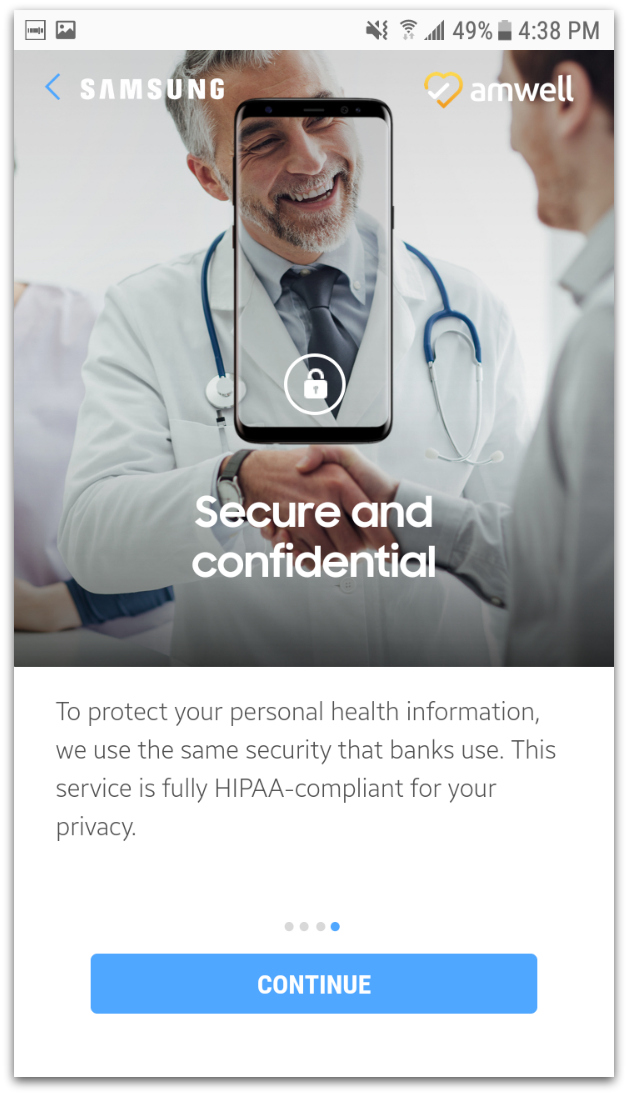 Samsung Rewards Program
Enroll in the Samsung Rewards Program between now and October 31st, 2017 to earn reward points.
The Deets
• Have one-touch access to a live physician for advice 24/7.
• Search for a provider from the home screen.
• It is affordable. Consumers expect online visits to be cost-savers; with in-office visits costing, on average, $59.
• Samsung Health's Ask an Expert provides a peace of mind. Rather than self-diagnosing or visiting a social forum for medical advice, users can obtain second opinions directly from board-certified, licensed doctors.
The normal price for this visit is $59 per doctor visit, but you can save $10 off with coupon code SAMSUNG14. This coupon code expires on 3/31/18.
Compensation for this post was provided to me by Samsung via MomTrends. The opinions expressed herein are those of the author and are not indicative of the opinions of Samsung or MomTrends. Ask an Expert (Online Doctor Visits) is a service offered through Samsung Health that helps you easily connect to medical and wellness experts from your phone. Samsung Health requires a compatible Android phone and a Samsung account. The Online Doctor Visits service is available in the U.S., except in Arkansas. The service is not for people suffering from medical emergencies or serious life-threatening conditions. If you have a serious medical concern, please call 911 or proceed to the nearest emergency department.