It isn't before long that you start panicking once that elated feeling of being newly engaged slowly fades away. If you're like most engaged couples, you have a laundry list of things to settle on before the impending nuptials: the wedding date, finding dresses for the bride and bridesmaids, setting up a registry, color scheme, florists, cake, food, sending out invitations, the location – the list is practically endless!
Evite's #NeartheKnot Engaged Photo Contest
Even though wedding planning should be fun and easy, it can be overwhelming with all of the decisions, decisions, and decisions. It's effortlessly easy to slide down a slippery slope of wedding planning burn-out. That is why Evite is inviting newly engaged couples to share a photo of themselves for a chance to be featured on a Premium Evite wedding invitation. The winning couple will also receive a date night courtesy of Evite. This includes an all expenses paid by Evite, a complete Premium invitation suite specially designed for their wedding events, and one year of free Premium invitations for events leading up to the big day.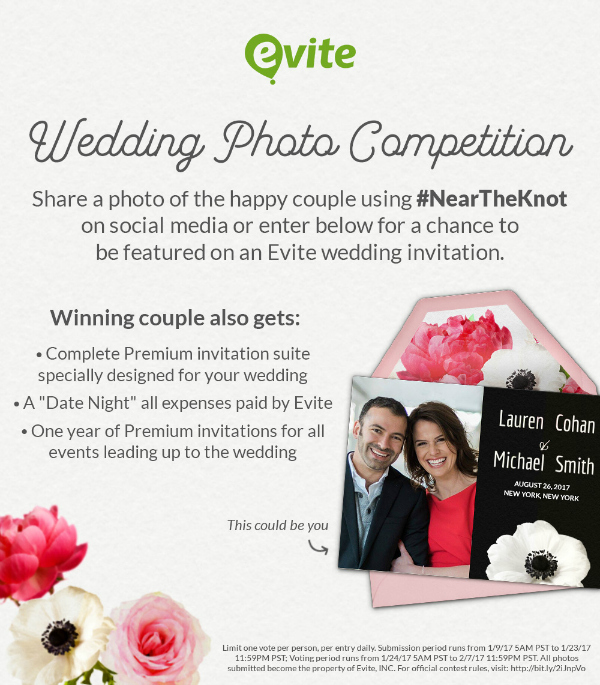 The submission period for the Evite's #NeartheKnot Engaged Photo Contest runs between now and January 23rd.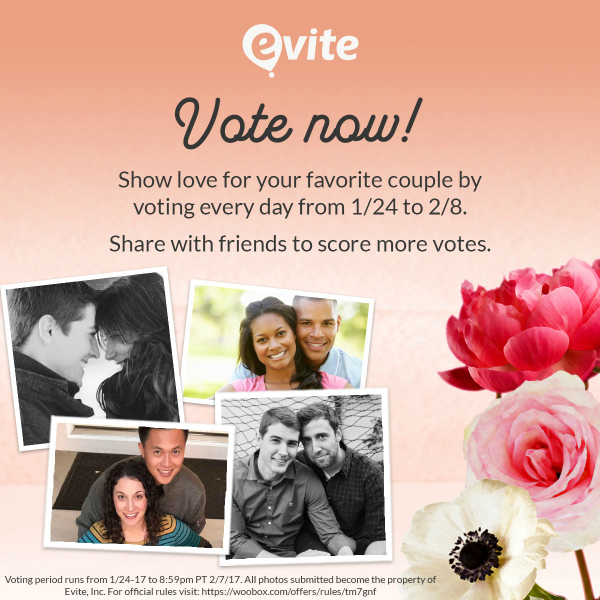 The voting period for Evite's #NeartheKnot Engaged Photo Contest will run between January 24th – February 8th.
Evite's Wedding Collection
Evite's new Wedding Collection features a varied selection of wedding-themed invitations that can be created and sent in minutes, making it easy to plan everything from the engagement party to the rehearsal dinner, and even the big day itself.

This post is in partnership with Evite.