It was a few years ago Jessica Alba told Net-a-Porter's digital magazine, The Edit, that she wore two corsets day and night for three months after the births of her children in 2008 and 2011 in order to obtain her pre-pregnancy body. She chalked off the experience "sweaty", but worth it. She also went on to say that it was brutal and it's simply not for everyone. Even though it sparked controversy, many couldn't help but be intrigued by her weight loss method.
If you've recently had a baby like Kim Kardashian West, the burning question is often: "When am I going to get my body back?" Fortunately, there is a way to achieve your pre-baby silhouette utilizing the practice of belly wrapping after pregnancy to help heal and return your body back to its pre-pregnancy shape.
According to Baby Center, it's commonly practiced in some Latin American countries for new mothers to use a girdle or compression bandage after childbirth to help them recover their pre-pregnancy figure. Or, maybe you're just like me and simply want to nip, tuck, and slim within minutes without vigorous exercising or costly surgeries.
Hourglass Angel, an online shapewear shopping destination, offers shapewear, body shapers, and waist cinchers that will nip, tuck, and slim you within minutes without vigorous exercising or pricey surgeries or cosmetic products.
The Best Waist Cinchers: Whip Your Waist Into Shape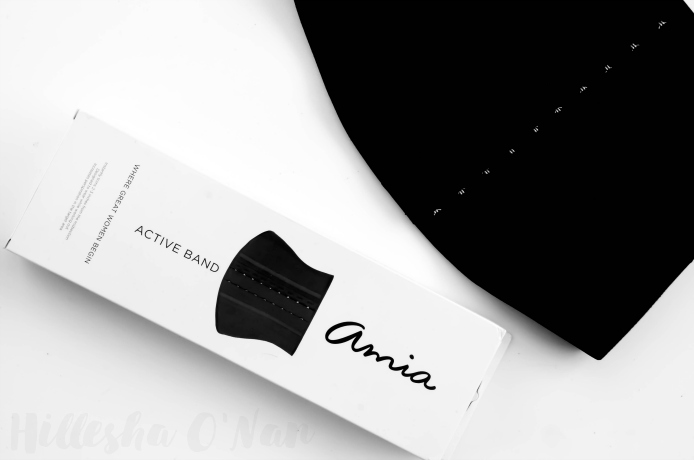 I received the Waist Buster Bundle ($89.99), which includes the Everyday Waist Trainer and Workout Waist Trainer. I'm no longer a stranger to waist trainers since I've been using them off and on throughout the years. I was slightly surprised how restricting they were when I first started using them, but I can wear a waist trainer with effortless ease after my body adjusts after wearing them for a few days.
Waist trainers like the Everyday Waist Trainer feature a power latex and flexi-boning for firm compression with flexibility and comfort. It helps stimulate thermal activity and perspiration, mobilizing fat and toxins. The wearer will most likely notice a sustained reduction of 1-4 inches in the waistline after wearing it 8-10 hours a day for 30 days. Additional benefits include a lifted bust, reduced back fat, and straighter posture. It may be tempting, but it's not recommended to wear this during a workout. It will ruin the boning, which you don't want to happen since the boning helps the cincher retain shape. That's where the Workout Waist Trainer comes into play!
As you start losing fat in the midsection, there are two columns of hook-and-eye closures on the cincher that enable you to size down with you. Although I still have some ways to go, I have noticed a difference in my waistline since I have been alternating between wearing this cincher and the Workout Waist Trainer. Both are helping me achieve my goal of sculpting my waistline, which has always been a troublesome area – even long before having children.
I no longer attend the gym, but I'm still quite active. When I'm not biking, I'm taking brisk walks alongside the riverfront or trekking the trails. Since the band creates compression in your core, the Workout Waist Trainer truly makes you sweat! The first time I wore it, I had to take it off within 10 minutes. I was reluctant about using it again, but I am glad that I gave it another chance since it gets more comfortable with each use. In addition to implementing a balanced diet and exercise routine, Hourglass Angel has the tools to make this summer your healthiest and happiest yet. You go to the gym to feel great and look your best, so why not exercise in clothes that look good, feel good, and can contribute to your effort?
Experts from HourglassAngel.com Share Tips for Waist Wrapping As a New Mom
This form of waist training is a simple way to get you on track while providing immediate comfort and support. Here are HourglassAngel.com's top tips on how to use postpartum waist trainers so that you're feeling like yourself again in no time:
Start with a Gentle Support
Following a natural birth or a C-section, your body has been through a lot of trauma. Now is not the time for a super tight steel-boned corset. They recommend using a postpartum wrap designed especially for those tender weeks following birth. It will provide the support your midsection needs as your abdominal muscles heal. Compression shorts also feel great, as they will help support your hips and pelvic floor muscles.
Support Your Workouts
Once you get the go-ahead from your doctor (usually around 6 weeks postpartum), exercise is essential to strengthen all of those weakened muscles in your core, as well as to burn away the extra fat that your body accumulated during pregnancy to support your growing baby. Using a workout band is a fabulous way to intensify those workouts and help you maintain good posture. Be sure to balance strength training with cardio. They've got some fantastic videos that can help you get started!
Gradually Increase Your Time Waist Training
In addition to a workout band, they recommend using an everyday waist trainer that you can wear under your outfits. These can especially be a huge help if you're going back to work so you can fit into your pre-baby clothes sooner! Start with just an hour or two a day and slowly increase the time you wear your waist trainer each day—up to about 10 hours a day.
Size Down When Needed
Cinchers are designed to adjust to your changing body. As your midsection sizes down, pull the clasps tighter. Eventually, you will probably need a size smaller—and that is a cause to celebrate!
Complement Waist Training with a Healthy Diet
We hope this goes without saying, but you're really working against yourself if you're not eating well during your waist training. Plus, you're not doing your recovering body any favors. We know it's hard when you have a newborn to care for, but make it a priority to prepare healthy meals with a balance of carbs, proteins, and fats. Use whole ingredients and avoid processed meals; limit caffeine and alcohol as well. Before long you'll be looking great and feeling great.
This post is in partnership with Hourglass Angel.