Spring is officially here and summer is just around the bend! Is your home ready to let those warm seasonal breezes flow in and out of your kitchen while you're cooking an aromatic dinner? The neighbors will be jealous! What about your windows? Are they prepped so that you can enjoy fresh air as you drift to sleep at night?
Well, I came across a product that just might be exactly what we all need in order to enjoy the upcoming warm weather months to the fullest.
Are you ready to prep for spring and summer with easy, breezy Plissé Retractable Screens?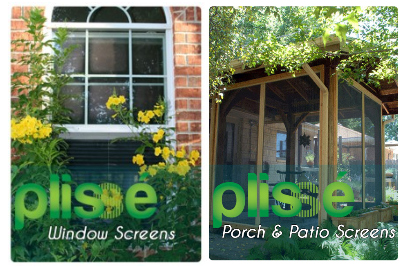 Screen Solutions, headquartered in Austin, Texas, is the exclusive manufacturer and online retailer of the elegant Plissé (pronounced plee-say) Retractable Screen.
You can improve the view, light, and ventilation in your home with these efficient, practical, and cosmetically beautiful screens. They're easy-to-install with sleek retractable screen housing that fits in with your home's specific décor. Every screen is custom built, so you can order the exact size and color that you want. This way, your screens will fit your home and your style to a "T". There are nearly 200 custom colors available to match any finish!
Whether you're looking for screens for your windows, sliding glass doors, a single door, double doors, an atrium, porch, patio, or even for an RV or motor home – there is a Plissé Retractable Screen to fit your needs.
Two of the most unique qualities about Plissé Retractable Screens are that they're practically invisible when not in use and they don't require springs or tensioners to operate. This feature makes them easy to open for anyone. Plus, you don't have to worry about your furry friends as they loyally follow you in and outside (like you do with other screen doors). Plissé doors stay put where you want them and don't pop, bang, or slam unexpectedly!
These easy-to-install screen doors are perfect for spring and summer so you can enjoy a "bug-free breeze". I don't know about you, but I love when I'm able to open my windows and doors to let in a breathtaking breeze without worrying about sneaky bugs and flying insects!
So, if you're looking for an affordable, stylish, and sophisticated way to enjoy your spring and summer months, check out the many options that Plissé Retractable Screens has to offer by clicking here
Connect with Plissé Retractable Screens
This post is in partnership with Plissé.