This post is financially supported by Global Influence.
I have always thought that my sensitive combination skin would calm down after my teen years. Here I am, nearing my thirties, and I'm still plagued with the "teenage skin" that I have battled since I was a pre-teen. When I was pregnant with my daughter, I was mostly expecting for my skin to turn for the worse as it did when I was pregnant with my son. Much to my surprise, I was blessed with near flawless skin for 9 months! I had the occasional pimple here and there, but they were very, very miniscule. I didn't even have to wear foundation to conceal them since they were barely noticeable. I thought all of this had a little bit to do with pregnancy and the fact that I was getting older, yet that came to a screeching halt after my pregnancy. Talk about a rude awakening!
Since then, it seems like my breakouts are usually worse whenever I have them. However, I have learned through trial and error that the less ingredients that I apply on skin, the better off my skin is. Believe me, my skin still has its days. I now believe that simplicity is key for healthier skin, though. Jumping from brand to brand and product to product can also be quite taxing on the skin! Not only I am now more careful about what I apply on my skin, but I also careful about what I apply on my hair as well. Not many people take into consideration that the products that we apply on our hair transfers to our pillowcase, which can also attribute to acne.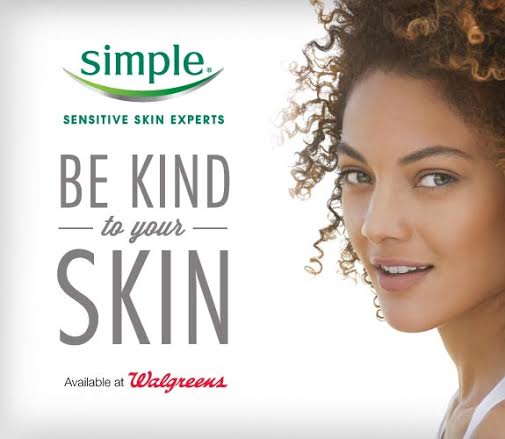 Simple Skin Care is a firm believer in being kind to our skin. This simple skincare brand is not only ideal for sensitive skin, but their products are not formulated with the usage of parabens, harsh irritants, dyes, and artificial fragrances. True to name, their products are simple! Some of their new products include the Ultra-Light Gel Moisturizer for instant and intense moisturizing, Foaming Facial Cleanser for squeaky clean, yet hydrated skin; Nourishing 24-Hour Day/Night Cream for soft and supple skin.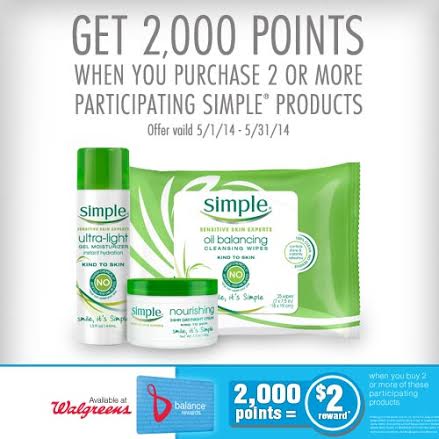 Simple® Products at a Great Value
During the month of May, purchase any 2 or more participating Simple® products at Walgreens to receive 2,000 Balance Reward Points. For additional savings on participating Simple® products, Buy 1 get 1 50% off with your Balance Rewards Card.