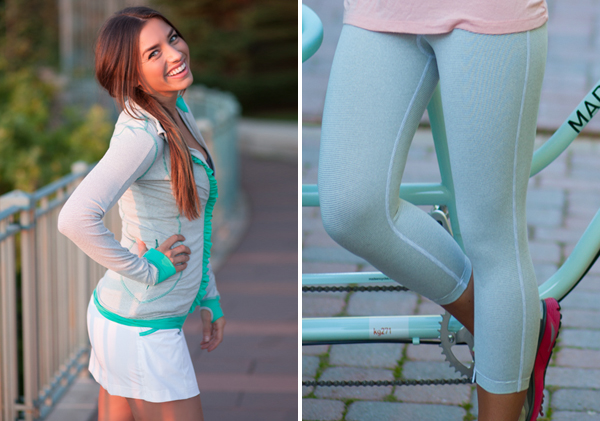 Whether we're staying active at the gym or the pool, we want to look and feel our best. I know that nothing gives me a surge of confidence any better than fashionable workout clothing or a sexy, yet modest bathing suit. Albion Fit, a family-owned company, is designed by women and made for women wherever they may be in their fitness goals. Their name, Albion, hails from the Albion Basin at the top of Little Cottonwood Canyon in beautiful Utah. Their fitness apparel doubles as work out gear and lounge wear since it's comfortably chic.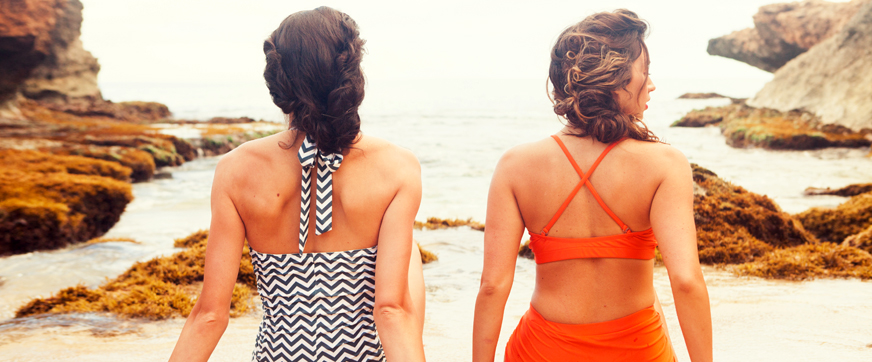 Movies and television shows such as Mad Men, The Great Gatsby, Boardwalk Empire, and the short-lived, yet influential show, Pan-Am, proves that vintage will never go out of style. Clearly, Albion Fit agrees with their sexy and vintage-esque, yet modest swimwear collection that entails bright and cheerful colors, polka dots, high-waisted or skirted bottoms, ruffles, nautical stripes, and chevron. Whether it's a bikini or one-piece, both offer an ample amount of coverage for your bust and bottom, with the perfect cut and fit to make you feel like you have stepped out of a time machine. Think Rita Hayworth, Cyd Charisse, Betty Grable, Elizabeth Taylor, Dorothy Dandridge, Pier Angeli, and Marilyn Monroe. These women had summer down pat and oozed sex appeal while still leaving enough for the imagination.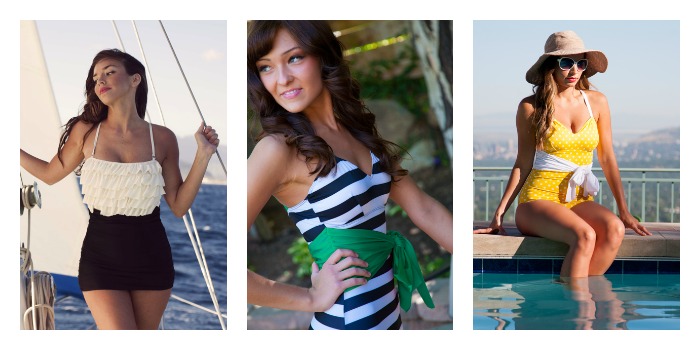 Midnight Dip Swimsuit in Black, $128 | Jaw Dropper in Black and Emerald Green, $108 | The Daisy, $98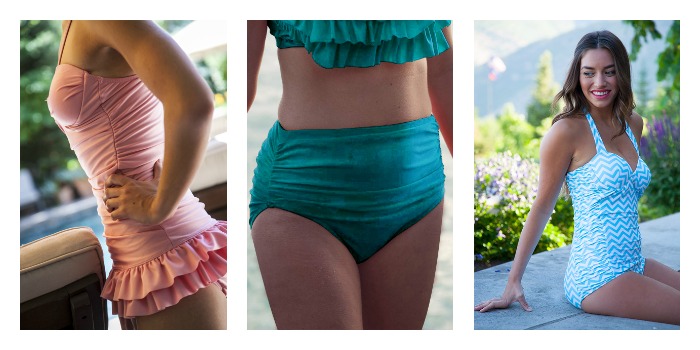 Ballerina Suit in Cotton Candy Pink, $112 | Samba Bikini Top in Peacock, $68; High-Waisted Bikini Bottoms with Ruching in Peacock, $44 | High Tide, $108
I have several swimsuits, mostly in midnight blue, but I wanted to shy away from the norm and select a color that I have never worn before, bathing suit wise. Timeless and unforgettable as the women of the heyday, the Criss Cross Suit ($112; Chino) is both flattering and sophisticated, featuring wide, supportive straps that beautifully connects to a square back to a bust-boosting twist-front bodice. The ruching slims the waist, creating an illusion of a flatter tummy and a feminine hourglass shape. To top it off, it's also very comfortable. Although a tad expensive, I have learned that high quality comes at a high price when it comes to swimsuits. Expensive bathing suits can also last many summers if you take good care of them.
Exclusive: Receive $20 off $50+ with coupon code: motherhood20 at checkout. The deal will conclude on July 12th, 2013.
Prize(s): One winner will receive an Albion Fit Criss Cross Suit (a $112 value).

This giveaway will conclude on July 17th.
Disclosure: The item(s) in this review was provided to the reviewer for keeps and the purpose of writing a review. This in no way affects the quality of the review provided. No monetary exchange occurred in exchange for the writing of the review. The views expressed in this review are strictly that of the reviewer. All reviews provided here are the work of the reviewer and remain completely unbiased.