I participated in this campaign for One2One Network. By posting, I am eligible for incentives. All opinions stated are my own.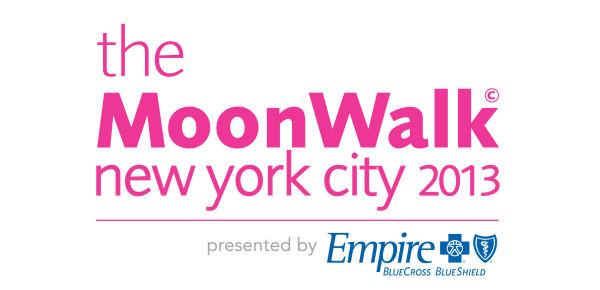 On July 20th at 10 PM, Walk The Walk is bringing their iconic overnight power walk in America for the very first time! The overnight walk will appropriately take place in the city that never sleeps, New York City. Home base will be Randall's Island. Starting at 8 PM, they will start a celebration with a light and healthy dinner, music, entertainment, and dancing. At 10 PM, they will start hitting the streets, crossing the foot bridge, and down along the East River. Then, they'll loop around and head north up the West side before returning to Randall's Island. They will be using a combination of well-lit pedestrian paths and sidewalks, with some street closings. The full loop is 26.2 miles and there will be a 13.1 mile option, but you'll have to choose your route in advance.
Most of the fundraising from the MoonWalk NYC will be granted to Memorial Sloan-Ketting Cancer Center to help support the Breast Examination Center in Harlem, one of the first free screening facilities for breast cancer in the country where 80% of patients are uninsured but guaranteed support and guidance.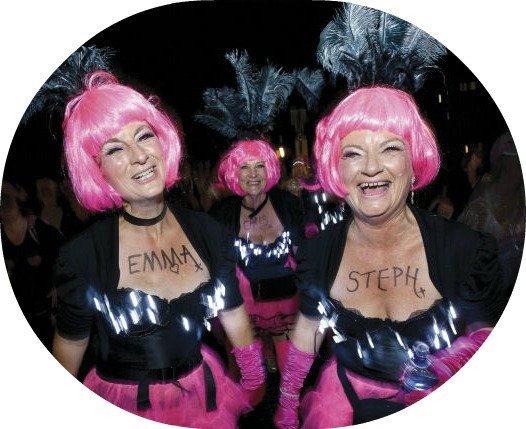 Walking the Walk – How it All Started:
Walk the Walk came into being 17 years ago when just a handful of women Power Walked the New York City Marathon in their bras to raise money and awareness for breast cancer. What started out as a one-off fundraising event blossomed into a thriving multi-million dollar charity, raising to date over $126M for vital breast cancer causes.

The story all started with Nina Barough, who is the founder of Walk the Walk. In 1996, Nina was running her own production company in London and woke up one morning with a crazy idea that it would be "fun" to Power Walk the New York City Marathon in a decorated bra to raise money for a good cause. At that time Nina had no experience with fundraising or taking part in a marathon nor did she know anyone who had been affected by breast cancer.

She convinced 13 women to join her and after much training and fundraising, this small, brave group took to the streets of New York in their bras. In truth, they may have just signed on for a fun weekend in New York, but the team raised over $40,000, which they donated to Breakthrough Breast Cancer Research UK to help build the first dedicated center for breast cancer research.

Word soon got around and people started to call Nina asking if they could join her next walking challenge. Due to her work commitments it was doubtful if that would happen, but then fate intervened.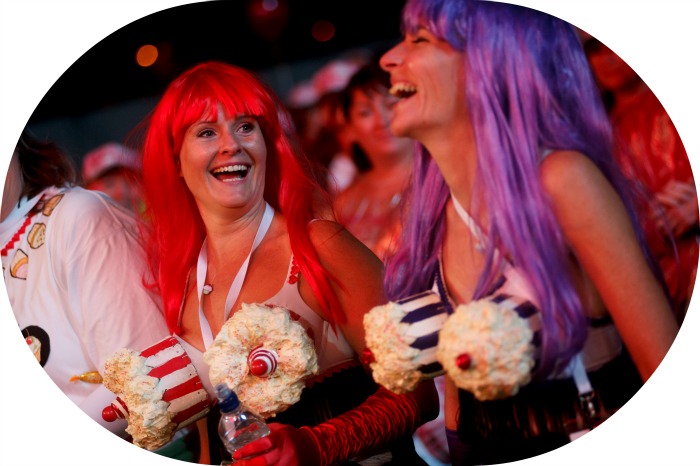 Fate Lends a Hand:
In January 1997, only two months after the adventure to New York, Nina not only discovered she had breast cancer herself but that it was an aggressive tumor, which she had most probably had for about three years. As a result, her world was thrown upside down as she had to give up her business and embark on a treatment program including a mastectomy followed by radiotherapy, with a two-year course of Zoladex injections and Tamoxifen. As is often the case in difficult times, those around her felt very helpless. At the the height of the Spice Girls and Girl Power, they decided to encourage a team to Power Walk the London Marathon as a positive way to support Nina.

The 1997 London Marathon was another huge success for the Walkers, raising in excess of another $40,000. Three days after the marathon the first Walk the Walk auction was held to sell their bras that had been designed by celebrities such as Paul Smith, Mary Quant, Richard Branson and many more. Only days later Nina was admitted to hospital to begin her treatment.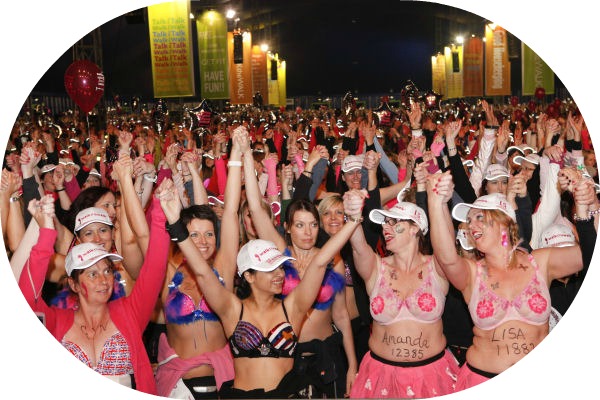 Walk the Walk Becomes an Official Charity:
By 1998 it was clear that word was spreading. Nina took the first steps to find sponsors that would help her to fund the establishment of an official charity. The rest, as they say, is history!

It is hard to believe that Walk the Walk has only been an official charity for such a short time. Nina had managed to turn a simple idea into a dynamic charity that promotes a healthy and fit lifestyle and at the same time raises significant funds for vital breast cancer causes. Nina's passion for healthy eating and exercise has inspired many others; in fact joining Walk the Walk is often described as a life-changing event. Many women and men who have never power walked or been involved in any sort of fitness before are becoming ardent walkers. It appears that Walk the Walk is achieving its goal of encouraging women and men to become more aware of their own potential for healing and for maintaining good health and well being.