Disclosure: I was provided a gift card to help facilitate my review.
In my household, there isn't a day that doesn't go by that we're not listening to music. Music is an integral part of our daily lives and I'm thankful that my children share my love of music. As quoted in William Congreve's 1697 poem, The Mourning Bride, "music has charms to soothe the savage breast."
Not only my children and I share the love of music, but we also equally love Disney. Between Nickolodeon and Disney, I fondly remember watching both as a child, namely Disney because of the fun and original movies. Although I'm still a Disney girl at heart, it has changed drastically since I was a little girl. Their show line-up is practically endless. Also, let's not forget the music! My son loves to dance to the tunes, while my daughter dances and babbles along.
Thankfully, Disney Music Store enables you to download all of your childs' favorites, past and present, boasting a library of over 12,000 tracks! It's comparable to sites such as iTunes. For single tracks, prices normally range from 69¢ to $1.29, while the full albums range from $7.99 – $10.99. Disney Music Store supplied me with a gift card and I opted for Shake It Up: I <3 Dance, an album that I knew my son would love since he enjoys listening to anything with a good beat.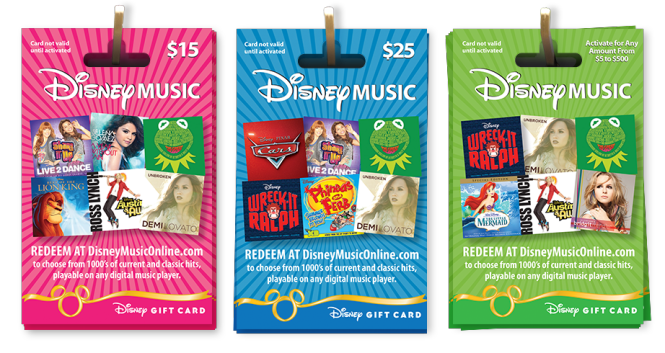 The catalog of music available at the Disney digital music store includes current hit artists (Selena Gomez, Bridgit Mendler, and Demi Lovato), Disney Channel series and original movie soundtracks (Shake It Up, Austin & Ally, Let It Shine), film soundtracks (Brave, The Muppets, TRON: Legacy), inspired-by compilations (Frankenweenie Unleashed!, Muppets: The Green Album, Almost Alice) plus classic soundtracks (Beauty and the Beast, The Lion King, The Little Mermaid), Disney Junior soundtracks (Sofia the First, Jake and the Never Land Pirates), Disney Princess and Fairies compilations, Radio Disney favorites, Spanish language, Songs & Story, and many more.
If you have a little music lover in your life, gift the gift of music with a Disney Music Gift Cards. These gifts cards ($15, $25, and custom amounts) can be found at your nearest retailer: Kroger, Walmart, Payless Foods, Giant Eagle, Ralphs, and many others!