We have partnered with Bellafind, an awesome site for new moms to discover and review the best baby products, to giveaway a Mommy and Me bracelet from Count Me Healthy Jewelry! This is not only a beautiful bracelet, but it's functional, too. Designed specifically for the modern mom or mom-to-be, the Mommy and Me bracelet helps women track goals by sliding the hand-etched beads. Popular counts include baby's daily feedings, diaper changes and anything else you want to discreetly keep track of as you work towards a goal. Of course, you can forget the goals and just flaunt it, too! The jewelry is lightweight and perfect to wear for every-day activities. An $88 value.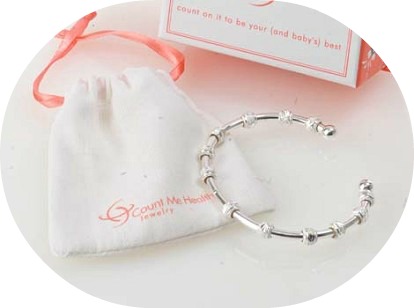 Here is their interview with Chelsea, one of the founders and jewelry designer at Count me Healthy:
1. When was the business founded and what was the spark of inspiration?
The business was founded in 2009. I was inspired to create the first "beautiful health journal for a woman's wrist" because I read this article which said the best way to reach your goal is to journal. I thought, "that's great, but it's not always convenient." So I designed jewelry as a hobby in college, and set out to create a way to stylishly count your goals by turning them into a bead count…"Wearable Motivation!"

2. What is it like working in your offices? Do you guys do anything fun?
We have a very laid back, family-friendly environment. I often take my infant son to work. We are also located in Charlotte within walking distance to restaurants and parks so we try to get out of the office and walk the trails 2-3 times a week.

3. What item do you sell that is your personal favorite?
My personal favorite is the tri-color rose gold Galaxy bangle because I'm a huge fan of rose gold. This is a tasteful, elegant way to incorporate all three metals into one cuff with the rose being slightly dominant. It goes with everything!
Check out more of Chelsea's jewelry at http://www.chelseacharles.com!