I'm always looking for ways to simplify my life, and that includes decluttering. Not only clutter is visually displeasing, but it can also hinder our sense of clarity and productivity. Disorganization can make one feel anxious, hindered, frustrated, and depressed; making it difficult for us to truly relax and unwind.
My motto is "out with the old, and in with the new", so every few months, I get rid of things that I no longer want or need to create space in my home. One rule of thumb that I follow by is if I haven't used or worn something for several months, good chances are that I will not be using it or wearing it anytime in the future. Also, if it's in presentable condition, I either Freecycle it or donate it to places such as Salvation Army or Goodwill.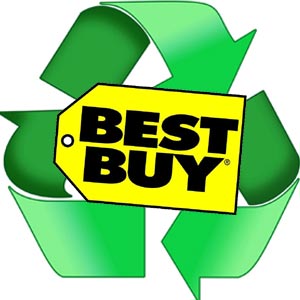 I wish I had known about Best Buy's Recycle Program beforehand, because I got rid of a couple of televisions that were practically collecting dust. I like the idea that they will recycle electronics (i.e. televisions, audio and video cables, cell phones, computer monitors, DVD players, (to name a few) no matter where you have bought them.
At no cost, they take your unused electronics and safely recycle. Their recycling efforts are available at every Best Buy location in United States and Puerto Rico. They recycle 387 pounds of electronics each minute their stores are open. What was once a television or computer, can be several different commodities ready to be used again. The plastics can be turned into park benches or playground equipment. Aluminum might become ladders, furniture, or car parts. Steel can be made into bridges or appliances. You name it, the commodities are practically endless and nothing short of wondrous!
Best Buy also carries a whole line of Energy Star certified products, too! You can easily recycle your old electronics to make room for more energy efficient ones. Click here to learn more about their Energy Star certified products.
Disclosure: The reviewer has been compensated in the form of a Best Buy Gift Card and/or received the product/service at a reduced price or for free. All opinions are my own.