After a strong desire to start a business, Flirty Aprons was founded by two married couples: Joseph and Heather Hansen, and Spencer and Jamie Taylor. Their vision was to deliver a high quality product. Now, the products consist of over 50 fashionable styles of Sexy Women Aprons, Original, Sizzling and Sexy Aprons for Men, Kid's Aprons, Boys and Girls Bibs, and Gloves.
Flirty Aprons, specializes in flattering and fun aprons, not the kind we use to make in home economics. They combine modern styles with a perfect fit that will have your boyfriend or husband telling you how sexy you look.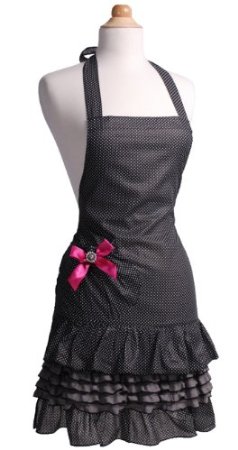 I was wowed when my Women's Apron Marilyn Sugar n' Spice arrived. It not only keeps my clothes clean while cooking, but keeps me stylish and feeling feminine, as well. It's so different from the aprons my grandmother wore.
I recommend Flirty Aprons for the woman that's wanting to be cute, flirtatious, sassy, sexy, and stylish in the kitchen. Believe me, you'll get compliments while wearing one of these modern aprons.
I can hardly wait until our little lady can wear these gorgeous aprons (fit 3-7 year-old girls) to assist me in the kitchen. The aprons are too cute! They also have mother and daughter matching aprons.
Go to Flirty Aprons and get one for yourself, or as a gift for Valentine's Day!
Disclosure: The item(s) in this review was provided to the reviewer for keeps and the purpose of writing a review. This in no way effects the quality of the review provided. No monetary exchange occurred in exchange for the writing of the review. The views expressed in this review are strictly that of the reviewer. All reviews provided here are the work of the reviewer and remain completely unbiased.