When they hear the familiar 'read me a story,' parents who turn to a classic fairytale realize, perhaps too late, that the plot lines are downright scary. The last thing parents want to tell their kids, all snuggled in bed, are stories about big bad wolves or poisoned apples! Enter My1story line of fairytales that guarantee a positive spin until the happy ending. Winner of Dr. Toy's 100 Best Children's Products, the first two My1story books now welcome two plush characters — Lil' Riding Hood and Beanie — straight from the beautifully illustrated pages.
I developed a love for reading early on in my life. There's hardly anything better than cuddling up with a good book. It is a simplistic luxury that most people take for granted. I just wish I had more time for reading, because I love it. These days, the only time I'm reading a book is when I'm reading to my children. I'm not complaining in the least, because I love reading to my children. It's a great way to foster a love for reading. I believe it's never too early to start, so I was astonished what this misguided article had to say about early reading.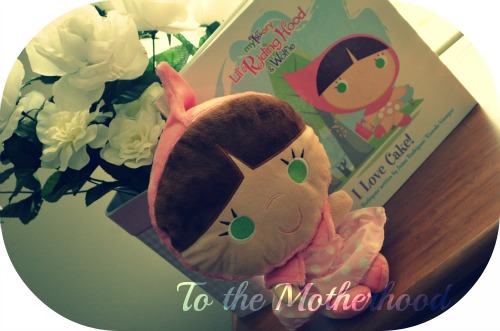 My daughter received the I Love Cake and Jack and the Magic Beans, which are the first two books that are part of the My1story series. She also received the plush toys to go with the books, the Beanie Plush and the Lil' Riding Hood Plush.
In the past, fairy tales were not intended for children since they were just folklore collected by the Brothers Grimm, which were overly violent and wildly inappropriate for young children. This is why most parents will like the My1story series, because the characters in the books are friendly, lovable, and not scary in the least. These stories show the consequences of greed, yet teaches the importance of caring and sharing. The "Big Bad Wolf" is even approachable. All he has a hankering for is Grandma's cake, which she kindly shares in the end. The illustrations are also visually pleasing. The illustrator, Jaime Rodriguez, is a former Walt Disney Company character artist.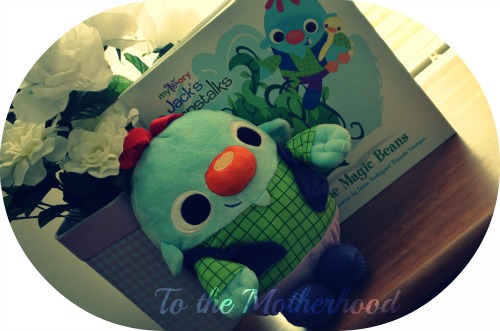 The My1story story books and plush characters are available exclusively on Amazon.com.
Disclosure: The item(s) in this review was provided to the reviewer for keeps and the purpose of writing a review. This in no way effects the quality of the review provided. No monetary exchange occurred in exchange for the writing of the review. The views expressed in this review are strictly that of the reviewer. All reviews provided here are the work of the reviewer and remain completely unbiased.