Prize: One winner will receive a Commuter Carryall Laptop Bag (a $105 value) from Love, Margaux.
Sign the Google Spreadsheet above.
Entry Limit: Daily
Note: You can list bonus entries separately or all in one entry – your choice!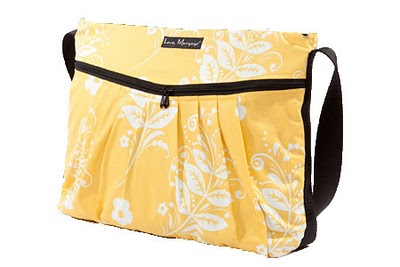 Love, Margaux makes cargo for the woman on the go. Their bags are a unique alternative to the everyday that goes the distance in fashion. Whether traveling uptown, downtown, or around the world, make your next departure a stylish one.
The Commuter Carryall – Brighton Bell Railway ($105) is cheerful and springy with the canary yellow and white design. This carryall features pleats to give it an extra touch of femininity and sophistication. It's great for traveling since it is water resistant, lightweight, yet sturdy enough to carry your laptop and essentials; and spacious. The Commuter Carryall comes in two more different styles that are stylish – Scarborough Express and Metropolitan Station. Their Skinny Sleeves ($80) are available in the same designs and fit most laptops up to 15.4″.
The product in this review was provided to the reviewer for keeps and the purpose of writing a review. This in no way effects the quality of the review provided. No monetary exchange occurred in exchange for the writing of the review. The views expressed in this review are strictly that of the reviewer. All reviews provided here are the work of the reviewer and remain completely unbiased.
Winner must respond within 72 hours of notification.