Prize:
One winner will receive a bag of their choice ($200 or less) from
Kelly Moore Bags
.
Sign the Google Spreadsheet above.
Entry Limit: Daily
Note: You can list bonus entries separately or all in one entry – your choice!
Kelly Moore Clark lives in the real LA – Louisiana, that is! She has been a photographer for over 12 years and spends much of her time teaching workshops for photographers. About three years ago, she started sketching and dreaming about having a handbag/lens bag line of my own. As a photographer and a woman, she was always left wanting "moore" when it came to her options for a stylish, functional bag that she could use to carry her equipment while she photographed. She sat down and made a wish list of everything that she wanted in a great bag, and now 3 years later, she is excited about her Kelly Moore Bags line.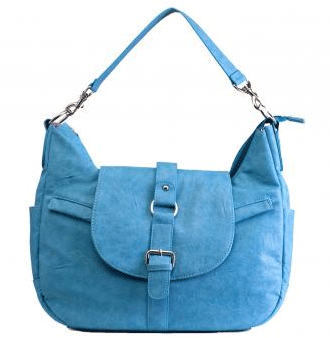 I had the hardest time on deciding which camera bag that I wanted to review, but I knew I wanted something that was fun, vibrant, and springy. I instantly fell in love with the B-Hobo Collection ($169) and finally opted for the one in Azure, which is an alluring aquamarine hue. The other "springy" colors that I love from this collection are Canary and Coral.
This bag is quite spacious (15″ (width) x 9.5-10.5″(height) x 4″(depth))! It can carry up to a 9 inch lens, camera body with small/medium lens attached, flash, phone, batteries, and other accessories. I love that the material is water resistant. I also like that you don't have to be a photographer to appreciate this bag, because you can also use it as a handbag or diaper bag. You can easily remove the Velcro dividers if you decide to use that way. It includes 2 straps – one for wearing over the shoulder and one for wearing cross-body up to 56″. It's a very versatile and beautiful bag!
Outside, the B-Hobo features 2 front zipper pockets (4.5 x 5 each), 1 back zipper pocket (9×5), 2 side pockets (4.5 x 3.5 each), a small flap with hidden magnetic closure, and a zipper top. Inside, it features 2 padded, removable, adjustable Velcro dividers creating 3 sections inside for gear.
B-Hobo is also available in Grassy Green, Walnut, Almost Black, Mustard, Heather Grey, and Muted Teal.
The product in this review was provided to the reviewer for keeps and the purpose of writing a review. This in no way effects the quality of the review provided. No monetary exchange occurred in exchange for the writing of the review. The views expressed in this review are strictly that of the reviewer. All reviews provided here are the work of the reviewer and remain completely unbiased.
The giveaway will conclude April 15th.
Winner must respond within 72 hours of notification.