Prize: One winner will receive a Noah's Ark Toy Box and a Noah's Ark Book Display (a $255 value) from Guidecraft.
Sign the Google Spreadsheet above.
Entry Limit: Daily
Note: You can list bonus entries separately or all in one entry – your choice!
For over 40 years, Guidecraft's educational kids toys, arts & crafts, and kids room furniture have delighted kids and parents alike. Developmental toys, from building blocks to award-winning Magneatos encourage open-ended educational play.
I had been considering on buying my son a new toy box for months, but I wasn't for sure where to begin since I wanted him to have a toy box that was sturdy and high quality in craftsmanship. My search has come to an abrupt end after receiving the Noah's Ark Toy Box ($185). This toy box was a breeze to assemble and it fit most of my son's toys! The details are beautiful as well. I believe that this toy box is well worth the price considering I've bought toy boxes that were much, much cheaper in price that ended up falling apart weeks later. I'd say that this is the Ferrari of toy boxes.
Guidecraft has a beautiful selection of toy boxes that you can easily incorporate in your child's room theme. My other favorites include Detroit Red Wings ($180), Swan Lake ($185), Retro Racers ($220) and the Fire Truck ($165). They have more basic, non-theme toy boxes such as the Mission Toy Box ($150) and the Classic White Toy Box ($135). Want personalization? The Spindle Toy Boxes in White, Honey and Cherry ($185) feature three photo cut-outs to showcase your child's pictures.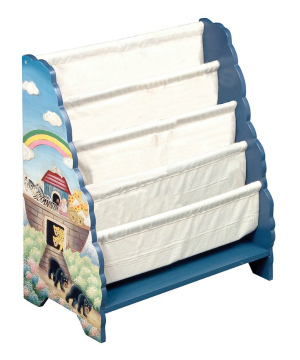 My son also received the Noah's Ark Book Display ($70), which goes with his toy box perfectly! It is a bit small. This makes it perfect for your child's room since it doesn't take a lot of room! However, I do plan on purchasing another bookcase in the future since this one didn't accommodate all of his books. He has a lot of books! This beautiful hand-painted and hand-carved book display features canvas deep storage pockets that are easy to clean. Assembling this book display was just as easy as it was to assemble the toy box! Imagine your child coming home after school. This would be perfect for them to relax and unwind by reaching for their favorite book and reading it. It's also a great place to put their school books.
The product in this review was provided to the reviewer for keeps and the purpose of writing a review. This in no way effects the quality of the review provided. No monetary exchange occurred in exchange for the writing of the review. The views expressed in this review are strictly that of the reviewer. All reviews provided here are the work of the reviewer and remain completely unbiased.
The giveaway will conclude August 25th.
Winner must respond within 72 hours of notification.