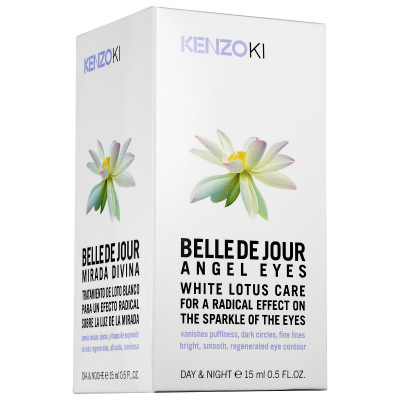 A recent study shows that women age around the eyes before men do – from crinkles at the corners of the eyes (Crows Feet) to bags developing under the eyes. Some prevent or treat this problem by turning to Botox. Luckily, there are better alternatives for those who wrinkle up their noses at the mere thought of it.
Kenzo just introduced their latest addition to their Belle de Jour line, Angel Eyes ($70). Suitable for all skin types, this extraordinary cream focuses on the delicate contours around the eye to deliver a youthful appearance. Angel Eyes puts the skin into a state of overall rest by reducing the amount of cortisol, a harmful stress hormone. In clinical trials by the LVMH Cosmetic Evaluation Center, levels of cortisol in saliva were shown to decrease by 13% after a single application. Angel Eyes also improves the production of beta-endorphins, promoting an overall feeling of well-being.
White lotus, long regarded as a sacred flower in Asia, is at the heart of this powerful formula that combats the first signs of aging. White lotus water, grown and harvested specifically for Kenzo in East Asia, has proven relaxing and anti-free radical effects.
I really love this eye cream. I've mentioned in past reviews that a good eye cream is a must-have for me. The packaging is simplistic but beautiful like the cream itself. Angel Eyes comes with a soft brush, which makes application easy. It easily livens up my eyes. I can see a difference in the eye area when I apply religiously day and night. I've also mentioned before that I occasionally get dark circles due to mild Anemia. With this eye cream, they are barely noticeable. This product is also known for reducing puffiness, but I haven't experienced that yet. However, I do when my allergies are bothering me. So I will definitely be turning to this eye cream when I do!
The product in this review was provided to the reviewer for the purpose of writing a review. This in no way affects the quality of the review provided. No monetary exchange occurred in exchange for the writing of the review. The views expressed in this review are strictly that of the reviewer. All reviews provided here are the work of the reviewer and remain completely unbiased.