Share the post "Young Living Stress Away Essential Oil Giveaway"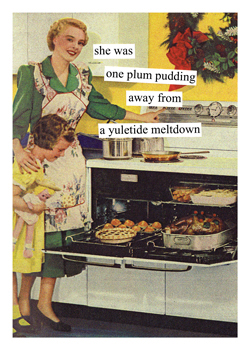 The holidays are not always an ideal and picturesque Norman Rockwell moment. Some of us are most likely prone to have an Anne Taintor moment instead.
Known for interjecting edgy humor in conjunction with vintage magazine images, Anne Taintor said it best with one seasonal image, " She Was One Plum Pudding Away from Having a Yuletide Meltdown." I believe we've all felt that way at some point or another. The holiday season is meant to be the most joyous time of year, but it can also be the most chaotic time of year! Everything from deciding on what to buy everyone on your list and financial woes to entertaining and hosting can practically make anyone almost succumb to a yuletide meltdown. You can take the holidays by the horns by stepping back, taking a breather, and relishing in "me time" amid the chaotic holiday season.
One of the things that gives me a sense of serenity is steeping a brew of tea. That first sip of fresh, steaming mug of tea rejuvenates and gives me a sense of renewal. It also gives me a zest of energy at the same time, especially if I have a busy, enduring, and perhaps a stressful day ahead of me. There are vast amount of different kinds of tea, but Earl Grey tea is notably my favorite. I also love sage tea!
Take a Hike
Hiking is one of my all-time favorite activities that I love to do when I need to clear my head. I deem it as nature's therapy, because I'm always at the most serene and peaceful state of mind when hiking. It has been proven that hiking can reduce stress and foster creativity, which can easily play positive factors when it comes to hosting and entertaining during the holidays.
Sense of Serenity
It's true that varying scents can have affect on our mood! That's why I have always loved aromatherapy. Some of my go-to essentials oils are bergamot, frankincense, ylang ylang, clary sage, rose, and Stress Away, to name a few. Young Living's Stress Away smells like a tropical vacation! One can easily close their eyes and mentally bask underneath a warm tropical sun.
Some of my favorite ways to get the best out of my essential oils are waving them under my nose, applying them on the soles of my feet and pulse points, and using an aromatherapy diffuser.
You can email me at HilLesha@gmail.com for more information on the essential oils by Young Living. You can also learn more about Young Living and their Premium Starter Kit via here. I'll send a $25 Amazon gift card to all members who sign up for a Premium Starter Kit by December 31st.
Stress Away essential oil is a unique blend of stress-relieving and relaxing essential oils (vanilla, lime, copaiba, and other pure essential oils) that can help reduce tension.
Giveaway
One winner will receive a bottle of 15 ml Stress Away Essential Oil or Stress Away Roll-On.
Young Living Stress Away Essential Oil Giveaway

Have you tried essential oils before? If so, what are some of your favorites?
The information on this website is based upon my research and personal use of Young Living Essential Oils. I'm not a doctor, nor do I pretend to be one. Statements, products, and techniques mentioned have not been evaluated by the FDA and are not intended to diagnose, treat, cure or prevent any disease.
Share the post "Young Living Stress Away Essential Oil Giveaway"