In the springtime, I partnered with an all-natural subscription service called ePantry. Their mission is to make a green lifestyle easy and affordable by offering competitive prices on some of your favorite eco-friendly brands. That's why I'm elated to partner up with them again just in time for the back-to-school season!
Some of their brands include Mrs. Meyers, Method, Seventh Generation, Preserve, BioBag, Green Forest, Casabella, Natracare, and Diva Cup, to name a few. Signing up for their online service is simple and easy! You can customize your order to your exact specifications, and even have it scheduled to be delivered months in advance. Each shipment saves 25 square feet of rain forest and is packaged in 100% recycled materials.
My most recent shipment included a couple of my all-time favorite products, the Dr. Bronner's 18-in-1 Hemp Almond Pure Castile Soap and Tom's of Maine Botanically Bright (SLS-Free and Fluoride-Free) Toothpaste. I also received ePantry's exclusive Grove Collaborative Organic Soy Candle in Blood Orange and Lip Balm in Mango + Ginger.
Dr. Bronner's Pure Castile Soap has been used by thousands of families around the world since its exception in 1948. For years, I have marveled at the fact that their line doesn't contain any harsh or synthetic ingredients, yet can effectively serve as a shampoo, facial cleanser, pest spray, fruit + vegetable rinse, shaving lubricant, toothpaste alternative, mouthwash, laundry wash, body wash, multi-purpose cleaner, and much more!
I used to regularly buy Dr. Bronner's at a local natural and organic grocery store until ePantry recently added it to their line, because I can now purchase it at the fraction of the price. This also includes the Fair Trade & Organic White Kernel Virgin Coconut Oil, Organic Hand Sanitizer, Organic Lotion, Pump Soap, Pure-Castile Bar Soap, All-Purpose Cleaner, and Organic Shaving Gel – all by Dr. Bronner's!
Exclusive Offer for To the Motherhood Readers
To the Motherhood readers will receive a 32 oz. bottle of Dr. Bronner's Pure-Castile Liquid Soap (a $21.99 value) + Free Shipping with a $20 minimum order via this link.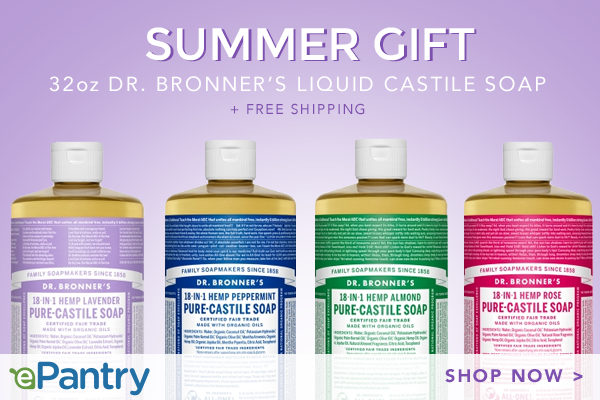 How it Works
1) This special, limited-time offer is only available now through August 9th.
2) Next, answer a few easy questions about your home, cleaning schedule, and favorite products (this only takes 2 minutes!). ePantry uses your answers to get a feel for what you like and to suggest products for future shipments.
3) Customize your basket! Try some new products as well as your old favorites. You can add or remove as many products as you like.
4) To get the Dr. Bronner's Pure-Castile Liquid Soap and Free Shipping, there is a $20 minimum. The minimum is for first-time orders only.
5) Last step! Once you have filled your basket, click Finish & Pay. Your free Dr. Bronner's Pure-Castile Liquid Soap will already be included.
This post is in partnership with ePantry. All opinions are exclusively my own.