Share the post "Personalized Floral Gifts at YouFloral Fresh Flowers"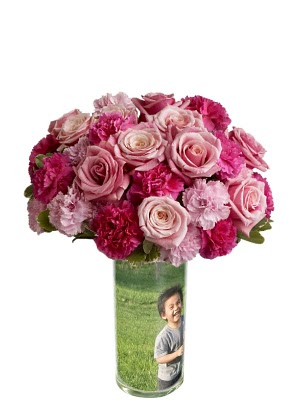 It is no secret that most women love to receive flowers. With Mother's Day around the corner, you may want to check out YouFloral.com for fresh flowers personalized by you. What makes YouFloral.com different than most flower delivery stores is that you can personalize their vases ($14.99) with a picture and /or message of your choice to make any occasion memorable. They even provide a color system that will help you choose bouquets that perfectly matches your picture. I chose my son's picture (as shown above), and I received the Pink Tapestry bouquet ($39.99) – a beautiful combination of roses and carnations delicately woven together in sweet shades of pink. It is perfect for just about occasion. When the flowers are gone, your recipient can easily remove their VaseExpression and save it as a lasting reminder of your thoughtful gift!
The product in this review was provided to the reviewer for the purpose of writing a review. This in no way effects the quality of the review provided. No monetary exchange occurred in exchange for the writing of the review. The views expressed in this review are strictly that of the reviewer. All reviews provided here are the work of the reviewer and remain completely unbiased.